Ucchhishta Ganapati – Abundance of blessings, and accomplish success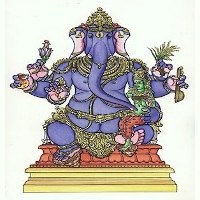 The blue colored Ucchishta Ganapati is also known as the Lord of Blessed Offerings, and he is also considered the protector and guardian of culture.  He has 6 arms, in which he holds a veena, a pomegranate, a japa mala, a blue lotus flower, and a sprig of fresh paddy. On his lap sits his Shakti, his consort.
Meaning –
The term "Ucchishta,' in Sanskrit, means "leftovers" or "remains." However, in this context, this word has Tantric connotations. He is considered to be a superior aspect of Lord Ganesha. His devotees are believed to receive an abundance of blessings, and the abilities to accomplish success in all endeavors and gain a dominant position in society. As per astrology worshipping Ucchhishta Ganesh in Ganesh Navratri days helps to seek abundance of blessings and success.
Ucchhishta Ganapati – Abundance of blessings, and accomplish success