Srividya Ganapati – Gain blessings of Kula devata, relief from pitra dosha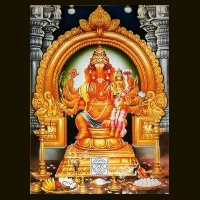 There is a lot of importance given to Sri Maha Ganapati Sadhana in Sri Vidya. It is a unique Sadhana that bestows freedom from worldly karmas. Ganapati can annihilate karmas like no other.
Meaning –
The Sadhak, after the Sadhana, is able to move further on the path of Sri Vidya Sadhana. They are also relieved of their "Pitra-Dosha" and "Kula-Dosha," and allows them to gain the blessings of their Kula devata in order to proceed with their Sadhana. This Sadhana is done by first activating the Maha Ganapati Sri Vidya mantra through Tarpana, Yantra Puja, Havan, etc. As per astrology worshipping Shakti Ganesh in Ganesh Navratri days helps to get blessings from Kula devata and relief from pitra dosha.
Srividya Ganapati – Gain blessings of Kula devata, relief from pitra dosha